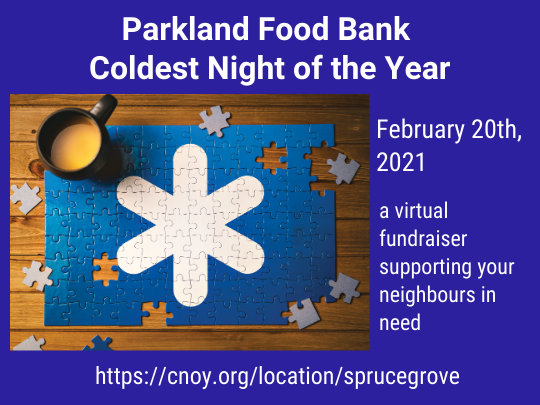 The Coldest Night of the Year is a covid-safe, family-friendly walk to raise money for Parkland Food Bank. Walk with us (virtually) on February 20, 2021!
Register
Register to walk individually or with your team. Are you ready to sign up and make a difference in your community again? Because we are SO ready to welcome you (at a safe distance!) again this year!
Please register today. There's a place for everyone!
Raise Funds
Here are some quick start steps to follow after registering…Make the First Donation: Build momentum by being your first donor. Get some of your own skin in the fundraising game!
Personalize your Fundhub Page: Your people don't want to read our boring generic CNOY page (yawn), they want to see a picture of you, read what you're doing, and why you're doing it. Ignite a fundraising spark by letting your donors know why you're passionate about your charity and your cause.
Start Your Fundraising Now: No really, now! You could wait, but our stats show that those who fundraise early raise 2-3 times more than those who start in February.
Walk Virtually
Walk where you want, when you want and with whom you want. Walk in Spruce Grove, Stony Plain or on anyone of the amazing trail systems in Parkland County (anytime in February). The good news is that the most important elements of Coldest Night of the Year will still be in place – fundraising, walking with your friends and family while feeling the cold, and making a difference!
Other Notable Changes
No Registration Fee: The registration fee is no more! Everyone is welcome to come and support their local CNOY charity.
Thank You Toques: The toques are blue, the pompoms are yellow, the look is on point! Build your CNOY toque collection with our thanks for raising a modest amount of $150 (adults) or $75 (youth under 17). Closer to event day we'll provide a safe way for you to pick it up.
Cash + Cheques: Because we aren't gathering together like last year, there'll be no cash or cheque collection on event day this year. Cheques must be mailed directly to CNOY Head Office for processing, and cash donations should be paid off online with Fundhub

Make a difference in your Community!
We aren't asking you to support us. . .
As of December 2020 we are serving an average of 629 households per month.
Right now we are seeing an average of 50 new households a month accessing our services.
Of these households, many are families with children.
The majority of households we support are working households experiencing lay-offs of one or more persons, or decreased hours.
Last year we gave out over 9,500 hampers, feeding 24,796 individuals.
We service not only Spruce Grove, but Stony Plain and Parkland County.
. . . we are asking you to help us support your neighbour.