Host Event
Thank you for supporting Parkland Food Bank Society. Proceeds and food collected at your event will provide hope and assistance in the Tri-Region.
Are you holding a Food Drive or Fundraising Event?
We appreciate whenever individuals and groups want to support the Parkland Food Bank with food drives and fundraisers throughout the year. Your support helps us to address hunger on an on-going basis for neighbours in need. As we are limited in resources, it is incredibly helpful for you to inform us of your event.
Please note:  Parkland Food Bank works with limited staff. If you require Parkland Food Bank to pick up a donation (only available for donations of more than two cars loads) you may submit a request a minimum of three weeks' prior to event date. Request can be made in the notes section of the event form. You will receive confirmation from Parkland Food Bank whether we are able to accommodate. Thank you for your understanding!
Event Resources
Please click the links below for logos and poster you can use or print for your events:
Kids Food Bank Project Tool Kit
If you would like us to help advertise your event please take a moment and post your event on our Events Calendar! This is your chance to get the word out into the community about your event. Make sure to create a specific title for your event, add a poster or image, and sell your event to the community. This is what we will use to share on social media as well.
Hamper items always accepted
Produce
Baby formula
Gluten free foods
Lactose free milk (non refrigerated)
Canned/dried beans: chickpeas, black beans, white beans, red kidney beans
Canned/dried lentils
Chunk light tuna and salmon
Canned turkey, chicken, ham
Canned tomatoes, tomato paste
Canned vegetables
Canned fruit
100% juice
Canned pumpkin
Whole grain pasta
Brown rice, instant brown rice
Boost/Ensure
Rolled oats
Yellow corn meal
Peanut butter
Pasta sauce
Canned soup
Ready to eat soup/pasta
Sidekicks
Pork & beans
Hamper items always accepted
Whole grain crackers
Whole grain/low sugar cereal
Oils: olive or canola
Seasonings
Reduced sodium chicken, beef or vegetable broth
"Lite" coconut milk
All purpose flour
Vinegar: white, apple cider
Condiments: salad dressing, ketchup, mustard, pancake syrup, etc.
Sugar
Coffee
Tea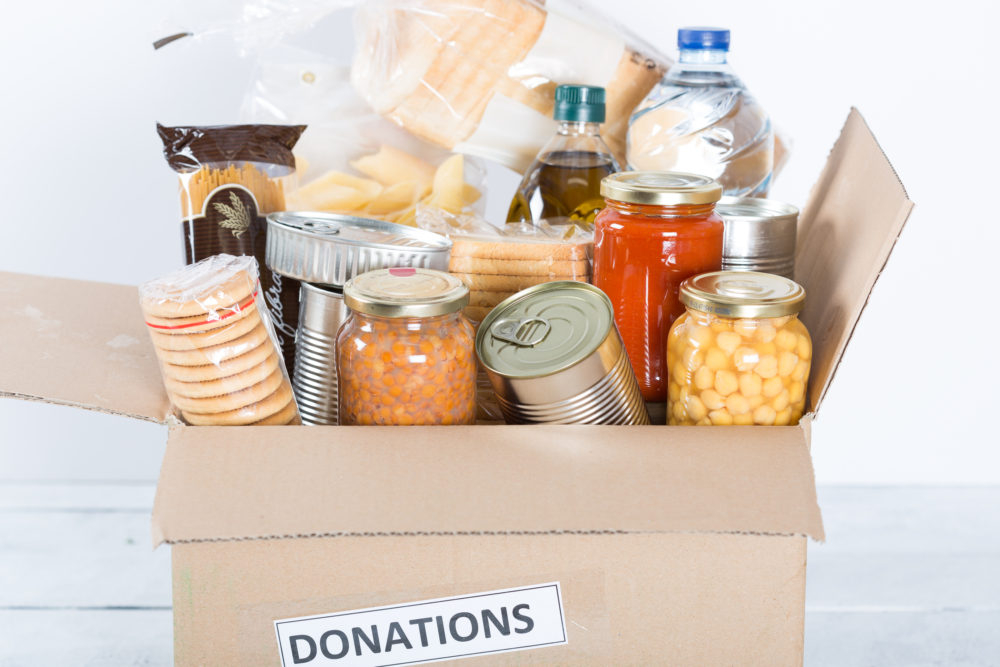 Other items we accept
Hygiene Items:
Shampoo/Conditioner
Toothbrush/Toothpaste
Hand Soap
Deodorant
Body Wash
Hand Lotion
Tampons/Pads
Toilet Paper
Kleenex
Baby Items
Baby Food
Infant Formula
Diapers (most needed are sizes 4, 5 and 6)
Household Cleaning Supplies
Dishsoap
Laundry Soap
All Purpose Cleaners
Items Not Accepted
Due to health and safety regulations we cannot accept the following food items:
Home canned items/preserves
Wild meat
Expired products
Farm Eggs
How to Best Help
Do to a dramatic increase in client use in the past 4 years, Parkland Food Bank is facing a warehouse space crisis. To maintain our current hamper program takes 21 pallets of dry goods every month. Currently our warehouse facility can store up to 40 pallets of food, meaning we can barely store two months of food in our facility at peak capacity.
To see us through this crisis, we ask that you help by considering a financial donation instead of purchasing food. This helps by:
Purchasing exactly what we need, when we need it;
Saves precious warehouse space and volunteer manpower as all donated food needs to be inspected and sorted;
Helps us leverage bulk purchasing, stretching your donor dollar farther;
Gives you a tax receipt to save you money at the end of the year!
With a $100 donation, we can provide a monthly food hamper for a household (we average 720 of those hampers every month). Through other partnerships, we are able to add meat, milk and eggs to that monthly food hamper as well.
We also offer weekly access to perishable food items such as yogurt, frozen goods, bread, pastries, produce, personal care products, diapers, formula, baby food and feminine hygiene products through our Food Rescue Program, gleaning those unsaleable products from local grocery stores and food distributors.
We thank you very much for your ongoing support as we look to be a community where no one goes hungry!
Where to Donate
Please help us by dropping off your food donation at one of our many special events, local businesses or directly to our warehouse (but please do not leave goods outside).
Drop off at our main warehouse at 105 Madison Cr. Spruce Grove. Please confirm our hours of operation before delivery.
To maximize our trucking resources, we can not arrange pick ups for small amounts of food (i.e. less than 300 lbs).
If you have a large amount (i.e. over 300 lbs.), please contact us to make arrangement and allow a 5-business day window for our trucks to swing out on their route.